"Truth is not only 
stranger than fiction, 
it is more interesting." 
—William Randolph Hearst 
 
After the Tennessee trip I called my father.
"Did you know that Lela was serious about music when she was in high school? She performed in musical theater, was a soloist in the choir, and sang standards in talent shows around Chattanooga. You never thought to mention any of this to your son, the professional musician?" 
Daddy Bill shrugged.
As fate would have it, Larissa and I divorced before ever having children, and I eventually lost interest in the mental and medical histories of my extended family. If crazy is in my genes, so be it.
But I remained curious about the length and depth of Lela's relationship with music. When and how did she get her start? Did she continue to sing after high school? Is music still important to her? And does she know my work?
...now here's where the story really gets weird...
It's 2008 on a rainy winter evening in San Francisco and I have insomnia. My South of Market loft is dark except for the glow of a single lamp and the faint flicker of a black and white movie on the tube. It's Bogie and Bacall in a film I've seen many times. The volume is off but the images keep me company as I sip my scotch and surf the web. 
As usual during these liminal moments between work and sleep, I start out with benign intentions (checking the weather forecast, perhaps, or looking up a recipe) but eventually my online meanderings devolve into mindless consumption of celebrity gossip. 
I'm half in the bag when I notice that Marlowe is just about to enter the casino where Vivian Rutledge is singing. This is one of my favorite scenes, second only to Dorothy Malone in the bookshop, so I turn up the volume and listen.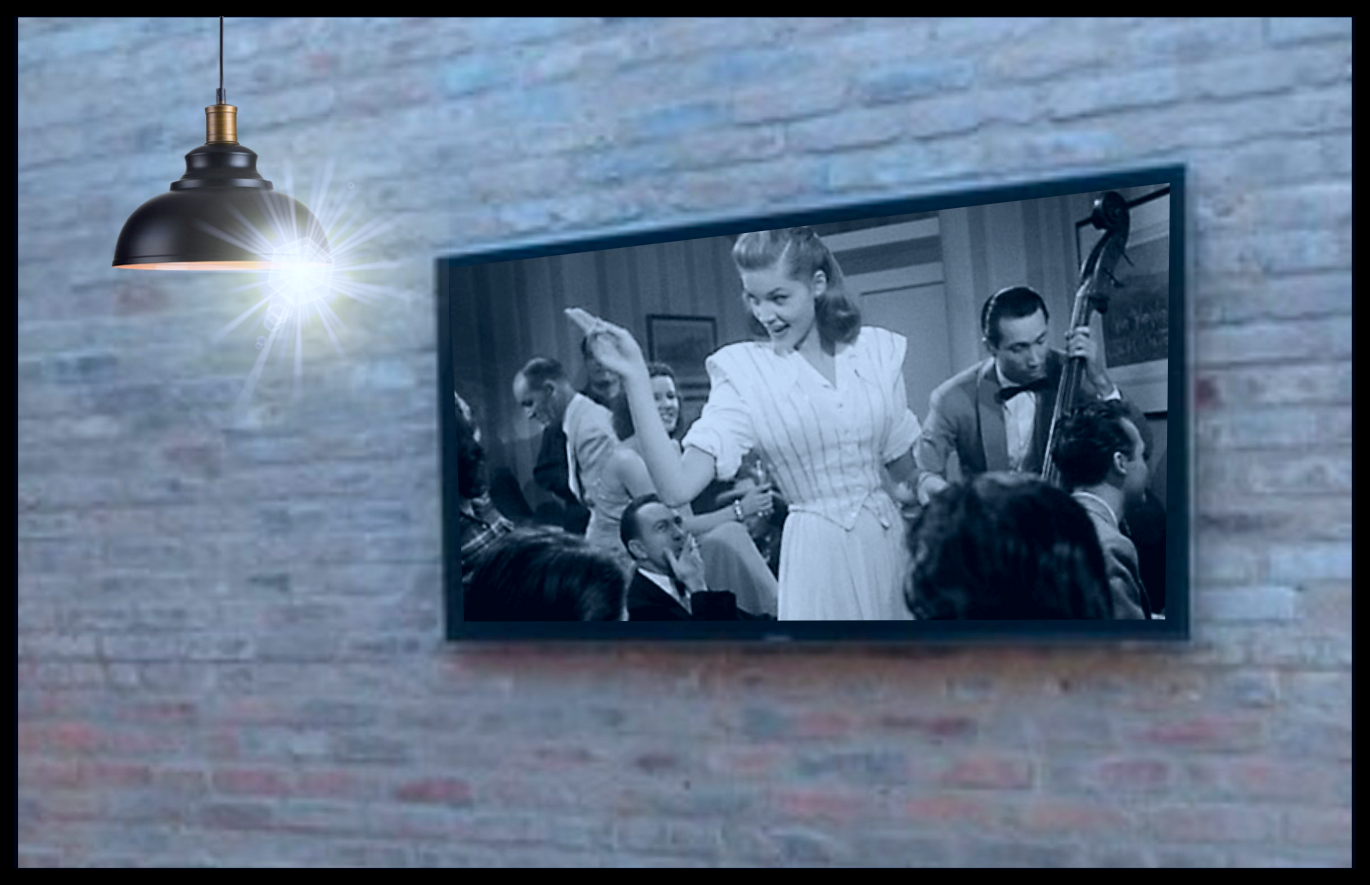 And her tears flowed like wine, 
Yes her tears flowed like wine. 
She's a real sad tomato, 
She's a busted valentine. 
 
I dig Bacall's relaxed, cool delivery and the meaningful looks she exchanges with Bogie. Something in her casual manner reminds me of Lela sitting atop that piano singing "The Man That Got Away."

It's been a while since I last searched for Lela online so I decide to give it another go. I plug every iteration of her name into the ancestry sites and search engines: Lela Ault (maiden name), Lela Matheny (married name), even Lela Conte (the name of her late husband), but no luck. I don't know her precise age, social security number, where she lives, which last name she now uses, or even if she is still alive. My cyber-sleuthing has once again hit a dead end. 
I'm about to give up entirely when I remember America McGee, the outlandish (and most likely imaginary) ancestor character from Lela's shaggy dog stories back in '79. On a lark I type that name into the search bar.
No joy, however, Google takes me to the Wikipedia page for American McGee, a video game designer. From there I bounce through various tech and gaming sites until I randomly arrive at Mr. Bill's Adventureland, a multiplayer adventure game review site. By this point I've stopped looking for Lela; now I'm just aimlessly web surfing.
I've never been very interested in games of any kind, but for some reason I feel compelled to continue down this particular rabbit hole. I linger on the site for about an hour, reading all Mr. Bill's reviews ... clicking, reading, then clicking again ... until I happen to land on the curious phrase "my wife Lela" — and I freeze. 
I know that there are thousands of women named Lela all over the world. I'm well aware of this. But somehow, at this moment, I can just feel it in my bones: this is she.This one is my mother. 
Without hesitating I click the contact button and write the following message: "Hi Mr. Bill, great website! I believe your wife Lela and I may know one another. Please give her my greetings. Sincerely, Dmitri Matheny."
I hit send and immediately fall into a deep and dreamless sleep.
When I awaken a few hours later, I see this response from Mrs. Lela Horton in rural Michigan:
Dmitri, I can't believe it!
How on earth did you find me!!?
MEETING LELA
Part 1 — The Frosty Frog
Part 2 — Chattanooga
Part 3 — Adventureland
Part 4 — America McGee
Part 5 — Under The Stars
Part 6 — Gifts
Part 7 — Biscuits & Gravy