"It's good to know where you come from. 
It makes you what you are today. 
It's DNA. It's in your blood." 
—Alexander McQueen 
 
In 1984 I was at boarding school in Michigan when my father called from Arizona to tell me about a long-distance phone call he had received from my mother. 
Her husband Tom had died after a prolonged bout with cancer. Now a widow in her forties, Lela was back in college studying to become a registered nurse. The reason (or pretense?) for her call was to ask for my social security number. Apparently she was updating her will and wanted to list me as beneficiary. 
"But you know how Lela is," Dad said. "According to her you stand to inherit a mountain top of all things! I promised I'd let you know … even though it's probably horseshit." 
"Wait, where is she?" I asked my dad. 
"Did you get an address? What's her phone number?" 
I already knew what he would say.
"Naw, I didn't ask. Why do you care? She's crazy!" 
Same old stubborn Daddy Bill.
I didn't press him. Ever since Lela's Irish goodbye in '79, I'd grown increasingly ambivalent about her. I had many questions, but it was clear to me that they would never be answered by her or by my father. 
A few years later just before my college graduation, Dad came to visit me in Boston. He'd recently divorced wife number four and he wanted to take me on a road trip.
We spent two weeks exploring New England, including one of his favorite birding spots, Mt. Desert Island off the coast of Maine. I would sit on the rocks for hours, playing my horn over the Atlantic, while Dad studied the flora and fauna of Acadia National Park.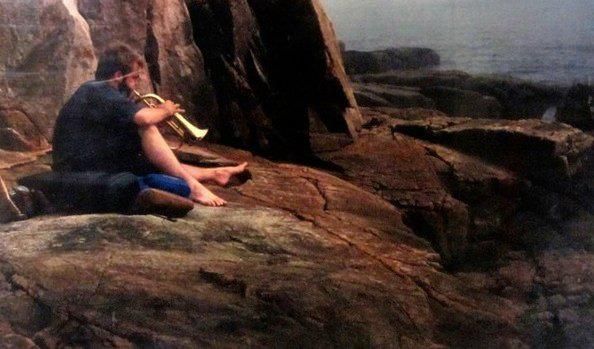 Dmitri Matheny - Mt. Desert Island, Maine | Summer 1988

In the evenings we'd enjoy delicious seafood dinners in Bar Harbor before retiring to our hotel, where we'd crack open a Sam Adams and reminisce. Perhaps because I'd been away for several years at Interlochen and Berklee, Dad was uncharacteristically talkative, so I took the opportunity to steer our conversation to wife number two, hoping to learn a little more about their brief time together and my own origin story. 
I noticed that if I asked Dad a direct question ("How did you and Lela meet?") he would abruptly change the subject, but if I introduced the topic in a more oblique way ("Where did you live before I was born?") he would begin to wax nostalgic and eventually would find his own way to Lela-land. 
I've forgotten much of what Dad told me during these late night chin wags, but I do recall him saying that Lela was raised in Chattanooga, not by her parents but by "two old maid aunts in a big house with white columns." Apparently Lela and several members of her family (the Aults) had experienced "nervous breakdowns" and were "taken to the nut house." Dad also mentioned a schizophrenic and homeless uncle who was known to wander the streets naked. "Every year they'd find him, clean him up, get him dressed, and bring him to Thanksgiving Dinner," Dad said, shaking his head, adding "that whole family was crazy." 
I didn't give these accounts much credence, chalking them up to a combination of heartbreak, hearsay, and hyperbole, but a few years later, when I repeated these stories to my fiancée in California, she expressed concern. "It's important for us to know the medical history on both sides of your family," Larissa explained, "especially since we want kids of our own."
I agreed, so Lara and I traveled to Tennessee on a Lela fact-finding mission. We didn't learn much about the family but we did find out a few revelatory things about my mother's adolescence.
In the microfiche archives of the Chattanooga Public Library we found the obituary for Lela's paternal grandmother and namesake, Lela Elizabeth Ault (born Bryson) 1878-1953.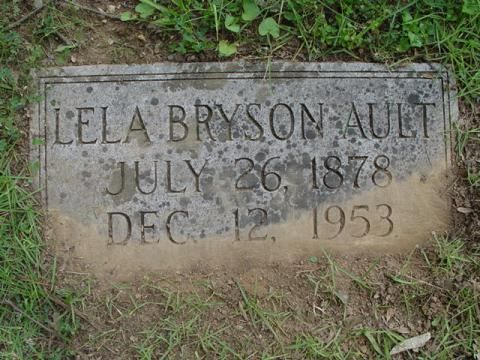 Lela Bryson Ault
July 26, 1878
Dec 12, 1953

Since the article included an address for the Ault family home, we drove over to take a look and, sure enough, it was a big house with white columns, looking like something straight out of Gone With The Wind. We knocked on the door but no-one answered. 
Returning to the library we discovered my mother's Chattanooga High School yearbooks. What a find! In official school portraits between 1957 and 1960, we see Lela Ault transform from a cute, mischievous girl into a mature, sophisticated young woman right before our eyes.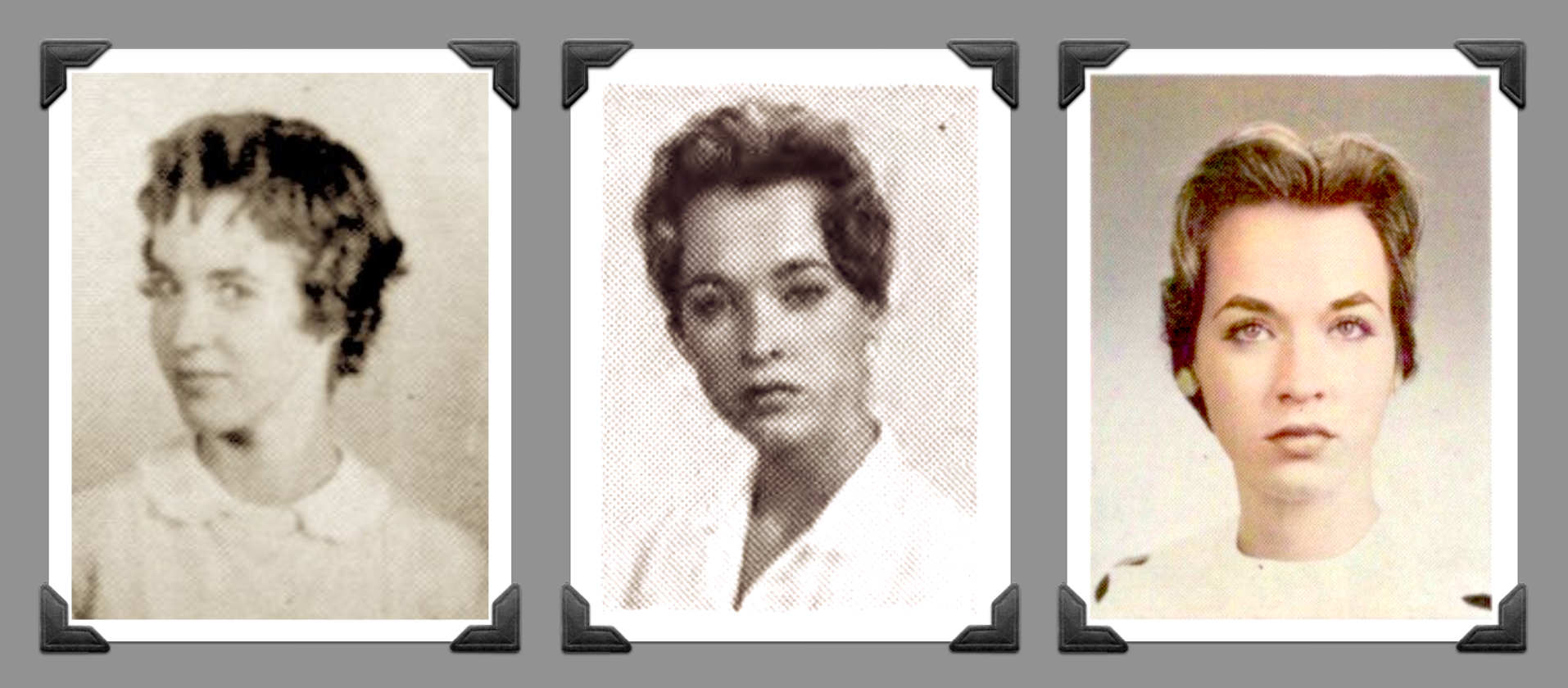 Lela Ault - Chattanooga High School, Tennessee
(L-R) 1957-58, 1958-59, 1959-60

Her senior photo, in particular, is striking. There's something deadly serious and almost defiant in her expression. At eighteen she already appears to be someone of substance, and the arts-centric bio blurb beneath the image supports this impression.
It turns out that Lela Ault was not only a visual artist in high school, but a prolific singer and performer as well. Who knew?! She sang in the choir and cantata, was a featured soloist in several student talent shows, and appeared in musical theater productions of Porgy & Bess, The Pajama Game and A Star Is Born. Moreover, as a member of the art service and specialty clubs, she was invited to perform off campus for various civic organizations around town. 
Prior to this moment I had no idea that Lela was a music person. In media interviews, whenever I was asked if I came from a musical family, I always answered "not especially" and credited my father's excellent record collection as the catalyst for my career in jazz. I was raised to believe that nurture, not nature, had set me on this path.
But here, in the pages of a midcentury high school yearbook, was new evidence that I could not ignore: photos of my biological mother on stage, five years before my birth, singing jazz standards by George Gershwin and Harold Arlen.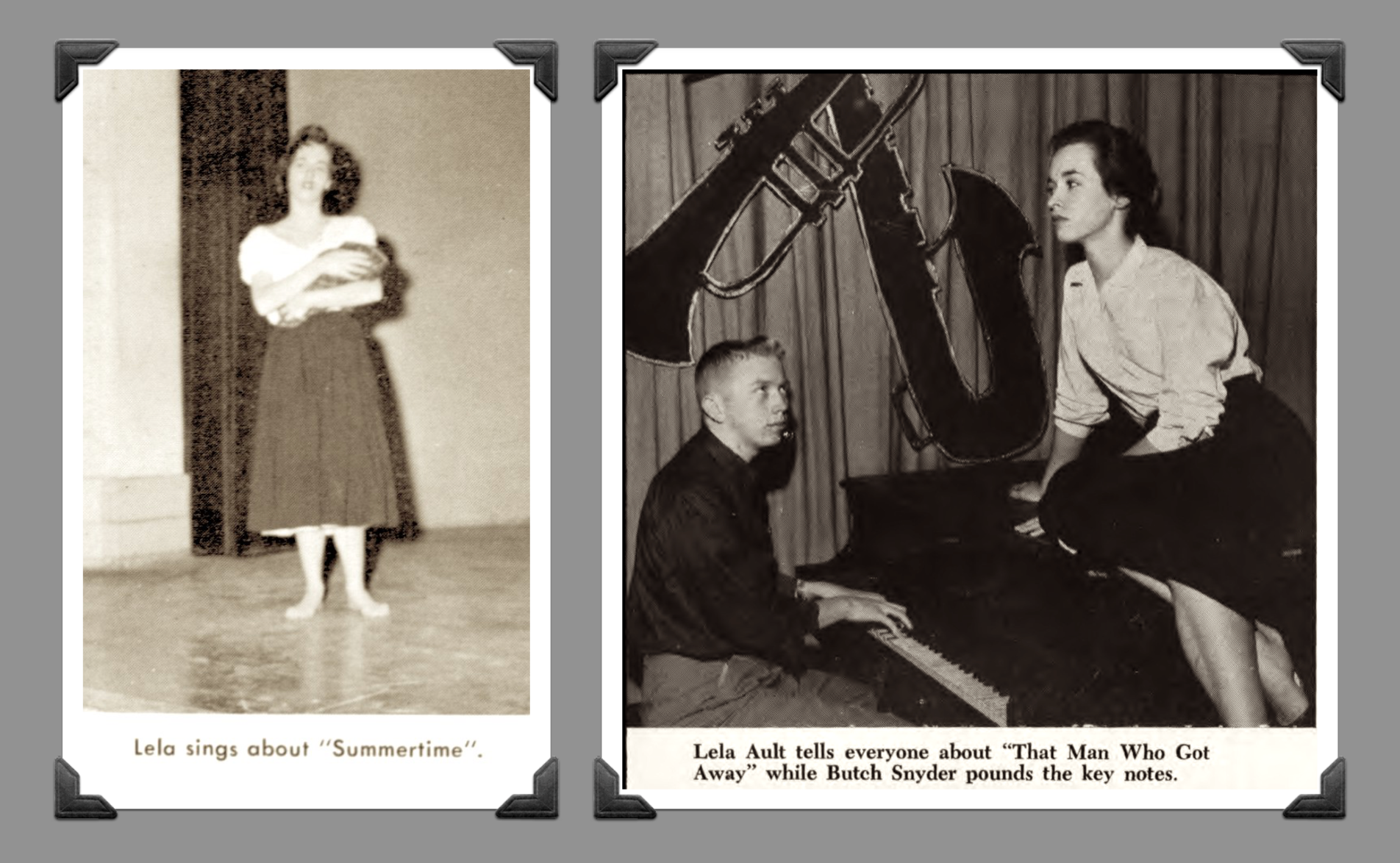 Lela Ault - Chattanooga High School, Tennessee | 1959-60
Singing "Summertime" and "The Man That Got Away"
 
A few days later we visited Daddy Bill's side of the family in Cookeville, Tullahoma, and Nashville.
"Did you know that Lela was a singer?" I asked my Aunt Maxine. 
"Oh, she had a lovely voice," she replied. "We all thought so." 
MEETING LELA
Part 1 — The Frosty Frog
Part 2 — Chattanooga
Part 3 — Adventureland
Part 4 — America McGee
Part 5 — Under The Stars
Part 6 — Gifts
Part 7 — Biscuits & Gravy