"The foundation of any national character is human nature."
―Vasily Grossman
 
Of all the many magical places I've encountered in my travels, Kinkaku-ji, Kyoto's Temple of the Golden Pavilion, is one of the most magnificent. Set in a classical strolling garden by a reflective pond, the temple's design is strikingly opulent yet perfectly integrated into the surrounding landscape.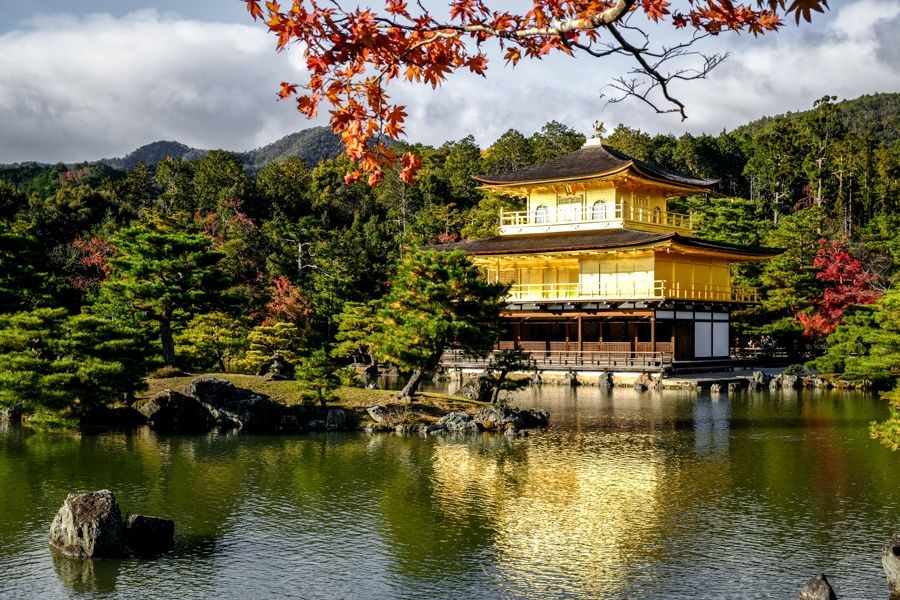 Although I've only visited the historic world heritage site twice, I return so often in mind and memory that it has become comfortingly familiar. For me, this temple achieves what the great cathedrals of Europe do not. Instead of making one feel small and insignificant, Kinkaku-ji inspires a profound feeling of gratitude and connection to the natural world, inviting contemplation of one's own role in the cosmos. As above, so below. 
Kinkaku-ji is a wonder of architecture and aesthetics. Each section of the three-story structure represents a different historical period and point of view. The first level, named Chamber of Dharma Waters, is rendered in the natural wood and white paneled shinden style of eleventh century imperial aristocracy, with verandas and open areas that bring the outdoors inside. The second story, called Tower of Sound Waves, is built in the tenth century manner of samurai warriors, with sliding doors and mullioned windows intended to convey evanescence. The top floor, Cupola of the Ultimate, is constructed in the twelfth century zen style suggesting meditation and spiritual insight. The top two levels are completely covered in shining gold leaf. Taken collectively, this singular architectural marvel confers both respect for nature and an awareness of the fragile, fleeting nature of existence. 
But it's the luminous golden reflection of the temple on the surface of the pond that I find most compelling. The image remains constant as the seasons change. Even before you view the relics and treasures within, the building's exterior design eloquently communicates the Japanese ideals of shokunin (craftsmanship, pursuit of perfection), wabi (understated elegance), sabi (the beauty of impermanence), yugen (mystery, grace) and ma (negative space, emptiness, and silence). 
Kinkaku-ji is a truly remarkable place. It's also where I learned a valuable lesson about the absurdity of stereotypes and the gentle power of humor. 
A light rain was falling as I quietly admired the temple with my new friend Masa, an expert on buddhist culture who also happens to be the husband of a favorite visual artist), when our silent contemplation was suddenly interrupted by a boisterous busload of Japanese tourists. They tumbled out of the bus, photographers all, and immediately began to laugh and shout as they joyfully took pictures of one another on the temple grounds. 
I was offended by what I perceived as an inappropriate and unwelcome assault on my reverie. Kinkaku-ji is a sacred place! They should know better, I thought. But when I looked to my guide he was grinning ear-to-ear, delighted with their arrival. I wondered how he could remain so cheerful in the face of this intrusion.
"You don't find them rude?" I asked, as yet another cluster of giggling girls pushed past us to pose in front of the temple. They squealed gleefully and flashed peace signs as their male companions snapped photo after photo.
"This is a happy place," Masa explained, smiling benevolently. "Why shouldn't they be happy?" 
Of course he's right, I realized. Embarrassed by my own foolishness, I tried to make a joke. 
"Hey Masa, you're Japanese. Where's your camera?" 
He replied without hesitation.
"Well, you're American...where's your gun?"