"Myths are lies and therefore worthless," CS Lewis told 
JRR Tolkien, "even though breathed through silver." 
"No," Tolkien replied, "they are not lies." 
—Joseph Pearce 
 
"Dmitri, I can't believe it! How on earth did you find me!!?" 
How indeed! I cannot account for the bizarre sequence of events that led me to Mr. Bill's Adventureland, nor can I rationally explain how I knew that Mr. Bill's Lela and mine were one and the same. But somehow, whether by fate, synchronicity or merely coincidence, at the age of 43 I became penpals with my long lost mother. 
We didn't converse so much as trade soliloquies. She ignored my questions, so I volunteered details from my own life hoping she might respond in kind. I told her about my successful music career and failed marriage. I shared all my hopes, dreams and fears. 
Lela answered these confessional data dumps with imaginative tall tales in which distant relations appeared as folk heroes. Often embedded within these homespun legends were non sequiturs of a more personal nature (e.g. "the scent of oranges always reminds me of Christmas"). I jumped at these crumbs like a starving orphan.
One day an envelope arrived with no letter at all. Inside were a one page single-spaced typewritten genealogy labeled "The Brown Family" and two photos. In one of the images a group of adults stands in a distant row facing the camera. On the back, in crayon block letters, they are identified as "(L-R) Mama Zulah, Brownie, Jo, Allene, Sissy, Evelyn, Frances, Sara, Jim, Willard." The reverse of the other photo, a mother with two children, is annotated in Lela's handwriting, "I was about 8 and my little brother was 6 when this was taken, so it was about 1950."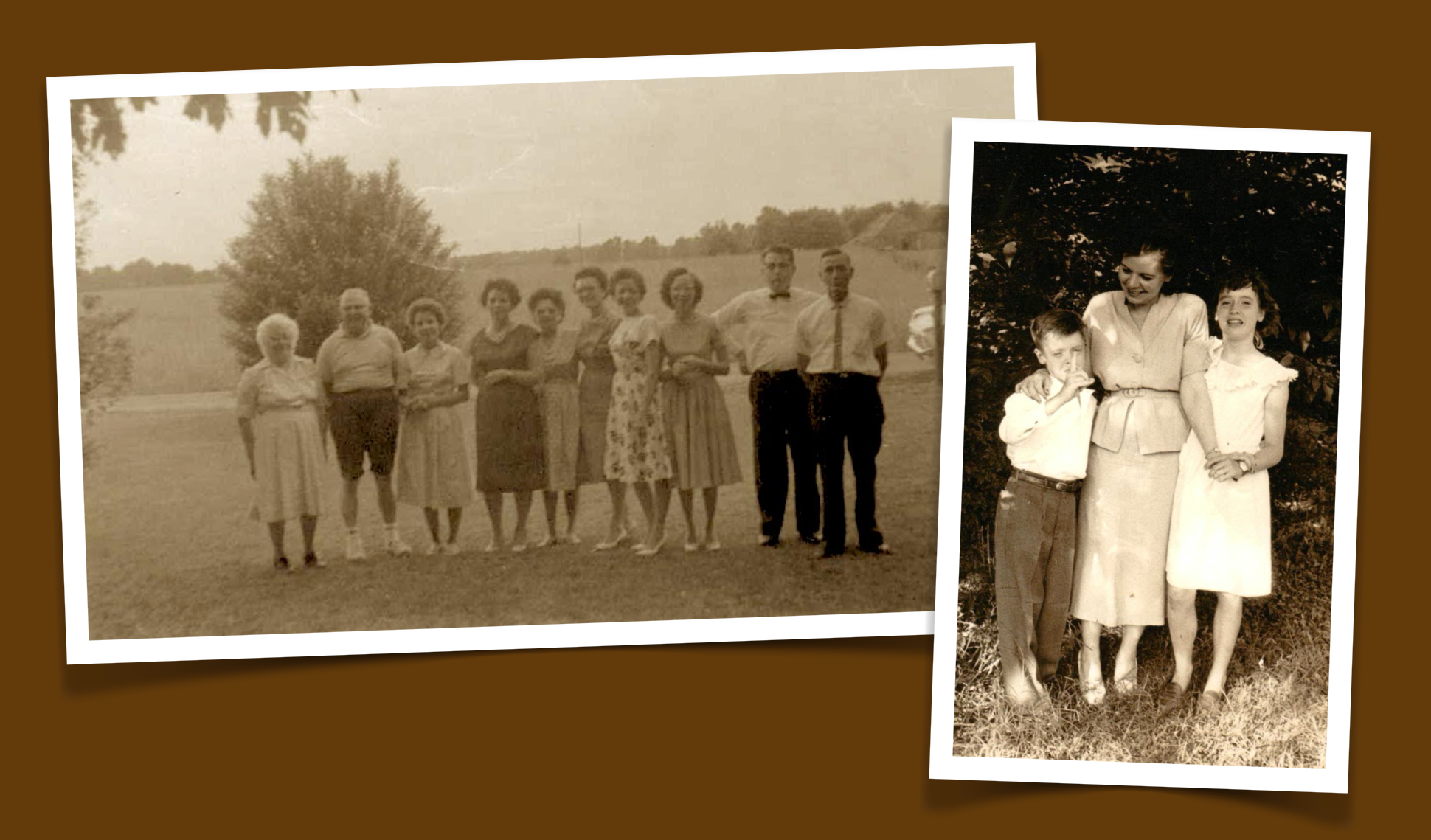 (

A close study of The Brown Family genealogy reveals "Mama Zulah" to be Lela's maternal grandmother. Following is the final paragraph, together with Lela's pencil notations in bold italics: "James Andrew Jackson Brown (1877-1961) PAPA son of William J. and Sarah Catherine, married Cornie Perdue around 1900. They had 2 children, V. R. (Brownie) 1904- and Vera Estelle (Sissy) 1906-. After the death of Cornie, James Andrew married Zulah Estes Cummings (1888-1963) MAMA in 1908. She was the daughter of Nancy Docia Brown who was the 13th child of Jeremiah Brown and Nancy Hodges Brown. Jeremiah Brown was the great grandfather of James Andrew and the grandfather of Zulah. James Andrew and Zulah had 7 children, Evelyn 1909-, Allene 1912-1972 MY MOM, 5 FEET TALL, BIG BOOBS, TINY WAIST, Josephine 1913-, Frances 1920, Sara 1923, James Andrew Jr. 1927- MY UNCLE WWII PURPLE HEART and Willard 1929-1977."
This convoluted "kissing cousins" report represents the sum total of what I know about Lela's roots. More often than not her letters would only recount the superhuman exploits of America McGee, the larger-than-life (and likely imaginary) Native American ancestor who, according to family lore, worked miracles, healed the sick, communed with animals and angels, predicted future events, and inspired everyone in the community with her wise counsel.
I doubted the very existence of this messianic figure, but eventually came to appreciate her significance as a mythic hero. Fictional or not, America McGee was my mother's personal avatar, the embodiment of her highest aspirations. Perhaps McGee was, to Lela, what the Green Lantern is to me.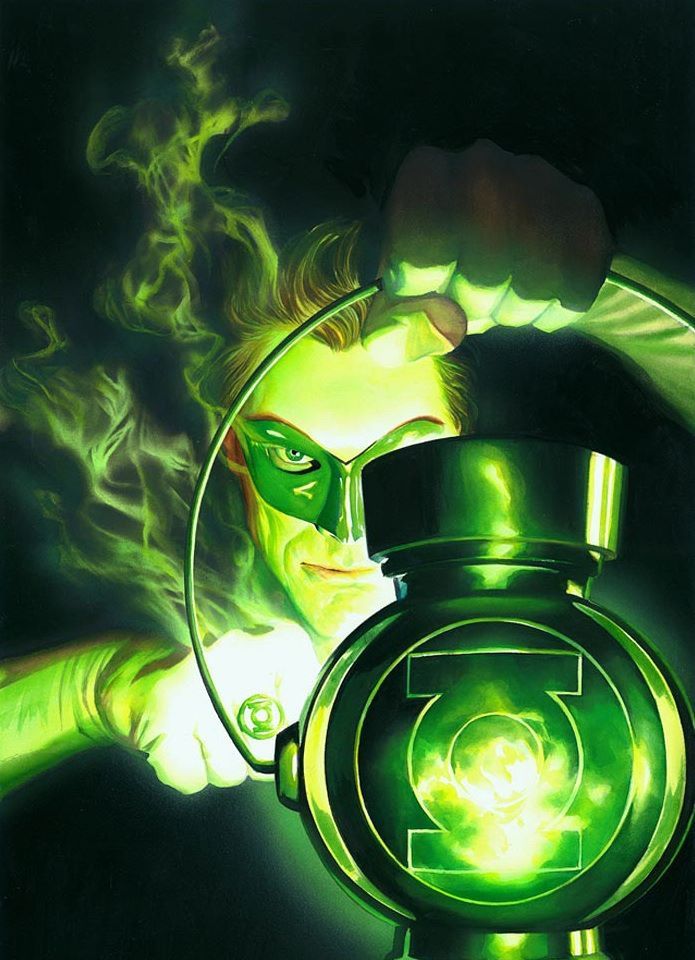 I've never had much use for religion but I must admit to enjoying these quasi-biblical stories a bit more after having experienced McGee's magic for myself. After all, a Google search on her name was the deus ex machina that brought Lela and me together again. Even if I never find confirmation of America McGee as an actual historical figure, I will always be grateful to her mythos for moving our plot along. #AmericaMacGuffin 
Every once and awhile my mother would let her guard down and reveal something personal. I briefly regarded each of these revelations as precious nuggets of truth until they, too, were inevitably contradicted by Lela herself.
For example, in one of her letters, Lela cast herself as a child prodigy and honor student who "tested at the genius level" and graduated from a prestigious university while still a teenager. In another she appears as a college dropout who never took school seriously and scandalized everyone by "running off with a professor" during her freshman year. In yet a third version of events Lela skips college entirely, having been recruited right out of high school to join a prestigious national advertising firm as a professional commercial artist. 
Lela mentioned my father exactly twice. "Bill Matheny was a hopeless romantic," she complained, "and I was his child bride. He smothered me with too much affection." In a subsequent email she wrote "The man never said I love you, and I was the kind of girl who needed to hear that from time to time."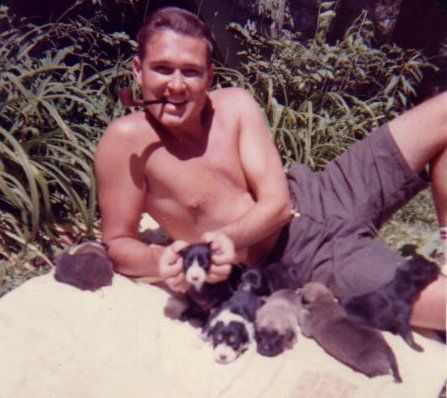 Bill Matheny: Hopeless Romantic? 
 
The two of us corresponded regularly for the next four years.
When you consider the sheer volume of words we exchanged, it's really quite remarkable how little I learned about my mother's actual thoughts, feelings or life experiences. Her fraught relationship with the truth was frustrating, but after so many years of silence, I was grateful for any contact at all. 
Then, in October 2012, Lela called with big news: 
"I bought an airline ticket today," she said. "I'm coming to your next show." 
MEETING LELA
Part 1 — The Frosty Frog
Part 2 — Chattanooga
Part 3 — Adventureland
Part 4 — America McGee
Part 5 — Under The Stars
Part 6 — Gifts
Part 7 — Biscuits & Gravy