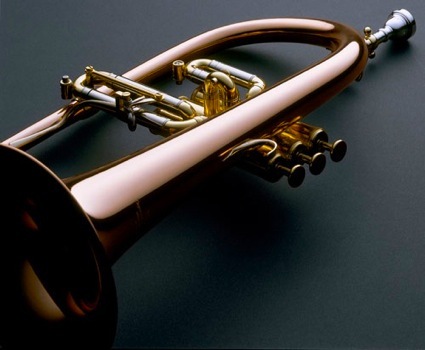 This week, Sassy and I have enjoyed the hospitality of some friends who've generously provided lodging for us in their home while I play a few gigs in the area. 
Their son (let's call him Freddie) is a very talented young aspiring jazz trumpeter. 
Although I regularly give master classes on the road, and have done my share of classroom teaching, spending time with Freddie and his family over the past week has been a powerful reminder to me of what it means to be a serious musician and what an industry jazz education has become.
At the age of 16, Freddie has already taken advantage of more specialized training and travel opportunities than I had in my college years, and he's already twice the player I was in high school. 
Freddie's days are so full that I'm actually hesitant to call him an "aspiring" musician. Not yet a high school senior, he's already playing professional gigs, studying advanced concepts and techniques, taking and teaching private lessons, listening broadly and living a decidedly music-centered life.
Freddie studies privately with two teachers: one for trumpet, another for jazz.

He's a veteran of jazz camp, Jazzschool, the Grammy band, SFJAZZ All-Stars, J@LC Essentially Ellington and Monterey NextGen. 
He participates in a summer music mentoring program and leads sectional brass rehearsals for his school jazz ensemble. He's won awards in all the regional and national honors programs you've heard of and several that you haven't. And he's already performed on the most prestigious jazz stages worldwide: New York, Monterey, Montreux, North Sea, Umbria. 
I never practiced like this kid, not even at Interlochen. He hits it hard for hours every day. Each morning I awaken to the sound of Freddie's horn, methodically working its way through James Stamp warm-ups, Clarke etudes, Clifford Brown turnarounds, articulation and lip flexibility exercises and chord scale after chord scale. Every afternoon he has a rehearsal or two with this or that band. Every evening he practices again. 
When I was Freddie's age, my bedroom was a shrine to Lindsay Wagner and Spencer's Gifts. I had only just begun to take private lessons and didn't take them very seriously. I loved to play but hated to practice.
Freddie's room is a hardcore crucible of brass: his chair, music stand and horn are at the center, surrounded by stacks of lead sheets and method books. His walls are festooned with festival posters and images of great jazzmen. On his desk a laptop computer is open to an overstuffed iTunes library. Two speakers face the practice chair.
I spent a couple of hours trading riffs with Freddie, and am astonished by his proficiency on the horn and his familiarity with the nuances of the jazz language. He's already familiar with every classic recording I mention, and he seems to own nearly all the available Aebersold and music-minus-one collections of standards. He has a remarkably sophisticated ear for modern harmony and can toss off bebop clichés over complex changes at bright tempos. He listens to all the same jazz heroes I do, plus the latest recordings by Alex Sipiagin, Ambrose Akinmusire and Billy Buss. He already knows the tunes, licks and lore that I learned in my five years at Berklee.
The other night I invited Freddie to sit-in with me and the band on "Invitation." The audience was knocked out. He played a mature solo, including some very creative motivic development. After the set, Freddie was appropriately gracious and grateful, pausing to individually thank each member of the rhythm section. He even possesses enough charm to balance all that swagger.
After 30 years in music, I'm now at an age when I think it's important to pay it forward. It's been my belief that I have a responsibility to share what I've learned over the course of my life and career, and to mentor and encourage the next generation of musicians.
But if they're at all like Freddie, I don't have the time. 
I need to practice.
— D.M.