The other day Christopher Orr [dreading this year's Oscars] wrote, "Even amid cosmic injustice we must be afforded glimmers of hope."

So true!

Here's a glimmer from 1998 which still gleams:

12 years ago today our Recording Academy awarded the Grammy for best jazz instrumental solo to trumpeters Nick Payton & Doc Cheatham, two of my favorite artists, for their tasty rendering of Hoagy Carmichael's masterpiece "Stardust."

It was one of those rare moments that occurs all too seldom in life, when excellence shines through and the universe nods in accord. Amazingly, the mind-numbing pop culture-drunk music industry briefly woke up, remembered its calling, and cast a collective vote for quality.

For a short while that year, music behaved like the meritocracy we all wish it could be.
We all voted for this record, but whenever I listen to it, I secretly believe it was created just for me.

Mine, like my big wheel or my slice of Key Lime Pie!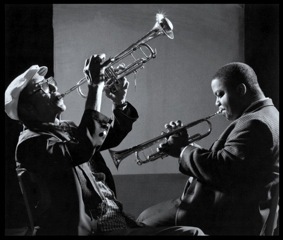 This entire album is a keeper, but I especially dig their treatments of "Stardust," "The World Is Waiting for the Sunrise" and "Jeepers Creepers."

Hear it and get yours on
iTunes
or
Amazon
.