While on tour each year, Dmitri Matheny offers music business workshops for college students and aspiring professionals.
Called MUSIC IN THE DIGITAL AGE, this workshop is designed as a business tool kit for today's working musician.
"Making a living as a musician is challenging," Matheny says, "but I'm proof it can be done. In this workshop I share dozens of secrets, strategies, tips and tricks for not only surviving—but thriving."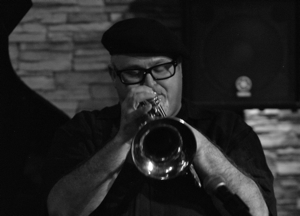 Professional musician Dmitri Matheny
performs over 100 concerts on tour each year.
In each workshop, Matheny explores current music industry trends and discusses how to:
cultivate a creative and entrepreneurial mindset;
develop successful concert, club and festival tours;
effectively use social media, digital resources and emerging technologies;
publicize and promote your own performances, recordings and other projects;
use your website to acquire fans and sell music online;
create and manage your own record label and publishing company;
leverage copyrights to generate income from your artistic work;
license original compositions for use in movies, video games and online;
negotiate contracts and understand relevant legal issues; and
work with industry professionals as steward of your own career.
In conclusion, Matheny will explain how to balance and manage business details while staying focused on your important work as an artist.
Celebrated for his warm tone, soaring lyricism and masterful technique, American musician Dmitri Matheny has been lauded as "the first breakthrough flugelhornist since Chuck Mangione" (San Jose Mercury News).

Matheny is an honors graduate of Interlochen Arts Academy in Michigan and the Berklee College of Music, Boston. First introduced to jazz audiences in the 1990s as the protégé of Art Farmer, Matheny has matured into "one of the jazz world's most talented horn players" (SF Chronicle), touring internationally, performing with many of the leading names in jazz, and releasing ten critically acclaimed CDs.
 
Matheny has served as Director of Education for SFJAZZ (the largest nonprofit jazz presenter on the West Coast), Assistant Education Director for the Thelonious Monk Institute Jazz Colony, and Artist-In-Residence for the San Francisco Symphony Education Department, the Siskiyou Institute of Ashland Oregon and the Young Musicians Program of UC Berkeley.