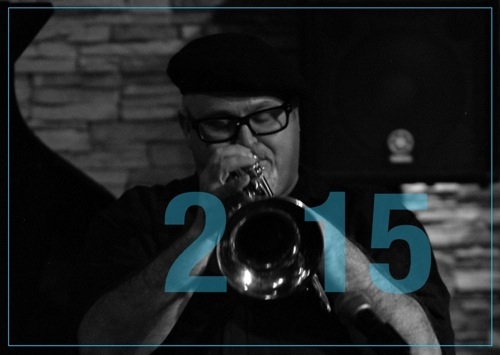 It's hard to believe that Q1 of 2015 is already behind us.
I set some pretty ambitious goals in January.
Here's where things stand today:

Practice Art Farmer improv method religiously.
I've been inconsistent in my practice. Will recommit.

Finish writing Jazz Noir material for 2016 recording.
Wrote 3 new charts. 2 are keepers. More to come.

Create and learn fresh DMG sets: 11 tunes, 2 original.
Done!

Pay health insurance first every month, no matter what. 
So far, so good.

Walk or swim daily. Lose 5 pounds monthly, 60 by year-end.
On track: eating right and walking every day. 
Down 16 pounds since the new year.

Increase number of workshops nationally from 54 to 100.
Way behind on this. Only 23 booked so far.
Redoubling my efforts.

Increase touring income by 20% while playing 20 fewer shows.
Fail. I'm working more but making less.
Net income YTD is 43% greater than in Q1 2014, but 40% short of goal,
and per gig average is only 88% of 2014 levels.

Bump per gig average by 5% and increase total net income by 27%.
Not looking good (see above). Need to improve these margins.

Eschew cynicism, laugh often and see the best in people.
They sure don't make it easy but I'm mostly grateful and happy.

When the time is right, get a dog!
Not yet...