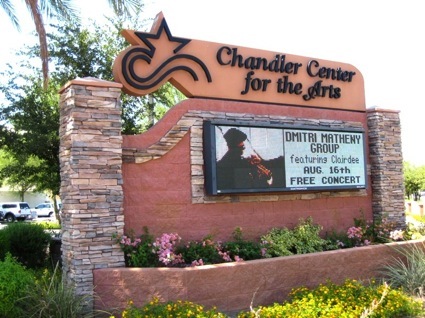 Dmitri Matheny flugelhorn
Clairdee vocals
Andrew Gross tenor saxophone
Nick Manson piano
T-Bone Sistrunk bass
John Lewis drums

"A visionary. Matheny's flugelhorn is both hot and cool, 
wide of range and brilliantly imaginative." 
—San Francisco Examiner
Flugelhornist Dmitri Matheny will share the stage with celebrated vocalist Clairdee in a salute to The Great American Songbook on Friday, August 16, 7:30 pm, at Chandler Center for the Arts.
The free concert will showcase favorite Broadway and Hollywood hits of the 1920s though the 60s, including works by George Gershwin, Richard Rodgers, Cole Porter, Harold Arlen, Hoagy Carmichael, Duke Ellington and more.
Celebrated for his warm tone, soaring lyricism and masterful technique, American musician Dmitri Matheny has been lauded as "the first breakthrough flugelhornist since Chuck Mangione" (San Jose Mercury News). Matheny is an honors graduate of Interlochen Arts Academy in Michigan and the Berklee College of Music, Boston. First introduced to jazz audiences in the 1990s as the protégé of Art Farmer, Matheny has matured into "one of the jazz world's most talented horn players" (SF Chronicle), touring internationally and releasing nine critically acclaimed CDs.
"Clairdee is among the most skilled and appealing singers around...fine songs, beautiful voice, great moves" raves the San Francisco Examiner. Following in the tradition of Frank Sinatra and Nancy Wilson, Clairdee's genuine manner of conveying emotion and giving each word a clear, personal touch makes her one of America's best singers in any genre.
The Chandler Center for the Arts is an acoustic masterpiece, providing a superb quality of sound for live performances. Over the past twenty-one years, thousands of patrons have been entertained, educated, thrilled and inspired in this beautifully designed and elegant facility, enjoying a broad range of music, dance, comedy, drama and family programs.