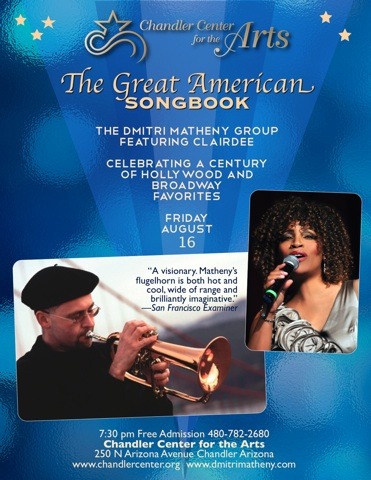 Next weekend, on Friday, August 16, the celebrated San Francisco vocalist Clairdee will join with the Dmitri Matheny Group in a salute to The Great American Songbook at Chandler Center for the Arts in Chandler, Arizona.
Presented free-of-charge as part of the arts center's "On The House" summer series, the program will showcase our favorite Broadway and Hollywood hits of the 1920s though the 60s, including works by George Gershwin, Richard Rodgers, Cole Porter, Harold Arlen, Hoagy Carmichael, Duke Ellington and more. Sharing the stage with us are saxophonist Andrew Gross, pianist Nick Manson, bassist T-Bone Sistrunk and drummer John Lewis.
If you've never yet experienced Clairdee in concert, you're in for a treat.
Clairdee possesses a beautiful, generous spirit that carries over into her song craft. On stage, she comports herself with effortless grace. She is unpretentious, charming and charismatic, and her performances convey a welcoming air of hospitality. Each member of the audience feels as if we've been invited to a cool, convivial party, and Clairdee is our elegant hostess.
Clairdee's vocal gifts are many. Her soulfully alluring style and rich vocal timbre reveal roots in the gospel church. She has an intimate, vulnerable and gentle way with a ballad, yet can swing or shout at will. Clairdee is that most exciting kind of jazz singer — the kind who always keeps a little rousing R&B in her back pocket.
Finally, as a song stylist and interpreter of lyrics, Clairdee is unmatched. Her diction is incredibly precise (all too rare today). She is aware of the meaning and feeling behind every phrase, all of which she communicates with winning sincerity and warmth.
Performing with Clairdee is, for us, a giant joy. 
We hope you can join us for this very special evening.

~DM