"if this town is just an apple 
then let me take a bite" 
—Steve Porcaro 
I love New York.
Original, right? 
Artists are drawn to New York City of course, but unlike many of my college friends, I chose not to move there after graduation. I picked the other coast, and for better or worse, that decision has shaped the trajectory of my life and career. 
The first time I ever visited NYC was on a road trip in the seventies with my father. I can't remember the reason for our trip, or why he insisted on driving into Manhattan, but I vividly recall how he muttered and cursed the whole time, anxiously gripping the steering wheel, his knuckles white, his face crimson red. 
For the rest of his life, whenever New York came up in conversation, my dad would launch into his litany of grievances, about "that bastard who cut me off," how "we both could've been killed," how "crowded and dangerous" that city is, and how "some druggie" even tried to break into our parked car. 
But Daddy Bill would always conclude with a smile and the same magnanimous declaration: "Welp, at least Little Bub got a kick out of climbing up that statue."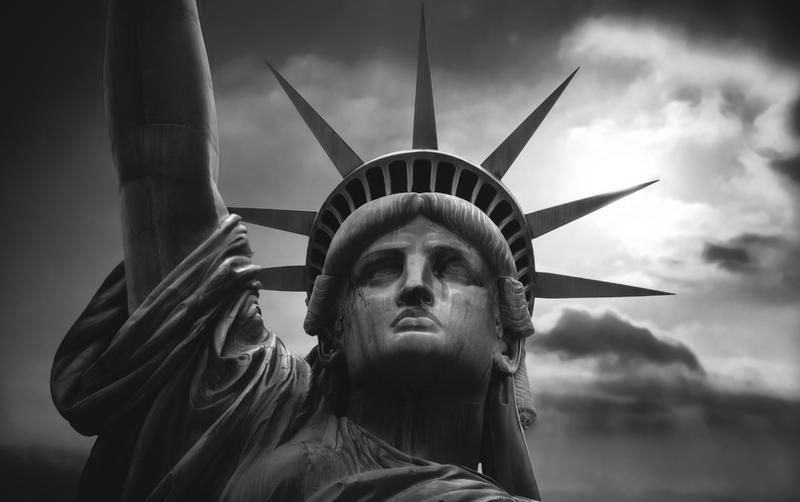 First Crush, 1975 
I've always had a thing for powerful women.
At age ten, I was fascinated by the Statue of Liberty. Our New York trip happened to occur just as bicentennial celebrations were ramping up, and I was enthralled by all the patriotic pageantry and symbolism. But it wasn't the ascent to Lady Liberty's crown that thrilled me so much as the sheer sight of her, towering majestically over the harbor. To this day, I can't see that iconic statue in a movie without getting chills. 
Thus began my complicated affair with The Big Apple. Like my father, I felt out of place there, but I also felt the city's mysterious gravitational pull. 
Surely part of New York's magnetic appeal is its reputation as the cultural capital of America. The entire history of twentieth century music, film, visual art and literature can hardly be imagined without that city's seminal role as a proving ground in virtually every genre. 
So in 1985, when I began commuting to New York for music lessons with Carmine Caruso (who changed my embouchure) and Art Farmer (who changed my life), it felt right.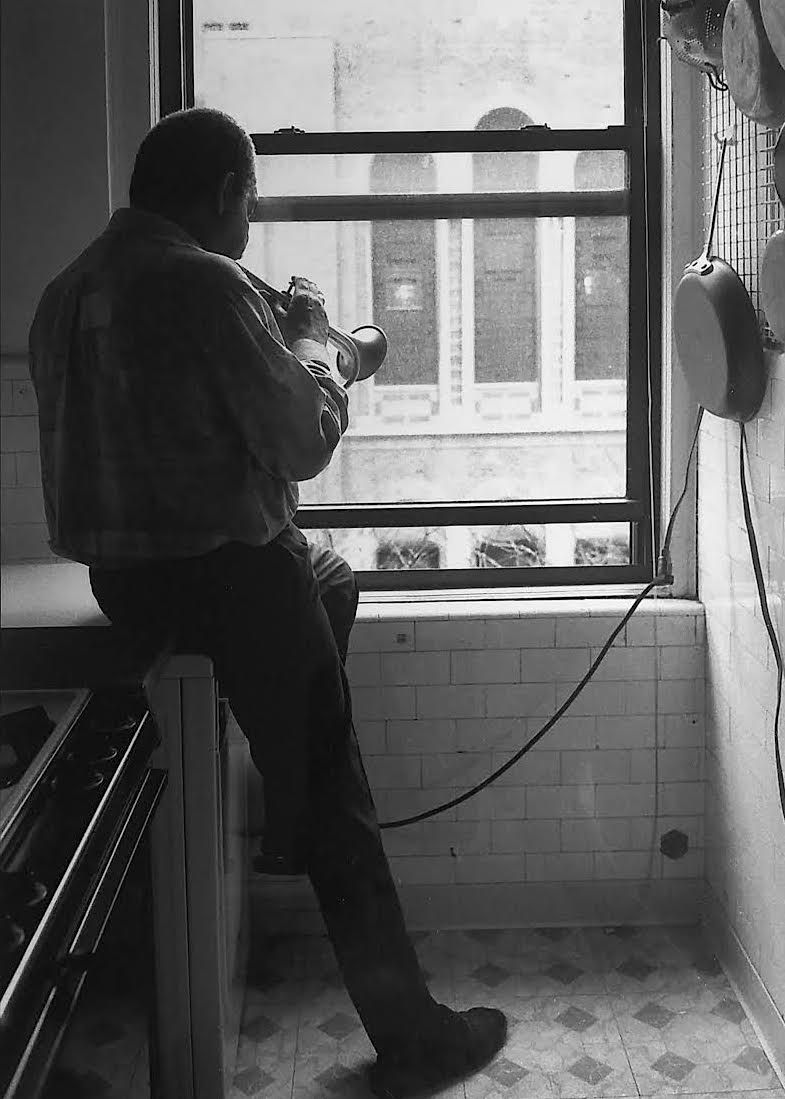 Art Farmer, who changed my life 
I loved taking the train down from Boston, the romantic feeling of passing through all those quaint little New England towns along the northeast corridor, the crescendo of excitement as the skyline gradually came into view, and the butterflies in my stomach as I exited the station and made my way over to Caruso's 46th Street studio. 
After our lessons I would visit a friend or two before picking up Hot House or The Village Voice to check the club listings and decide which of my heroes to go see that evening. I knew that I could never actually live there. As an introvert, I found the city exhilarating but overwhelming. But I was motivated to visit often. When you need inspiration, you go to New York. 
Even during my lost years in San Francisco, when I was married and working for Jazz In The City (later renamed SFJAZZ), I enjoyed many business trips to New York. Whether to sell jazz festival sponsorships (Sony, Verve, Blue Note), participate in industry conferences (APAP, JazzTimes, IAJE), or serve on grant review panels (Doris Duke, CMA), I never missed an opportunity for an all-expenses-paid pilgrimage to Jazz Mecca.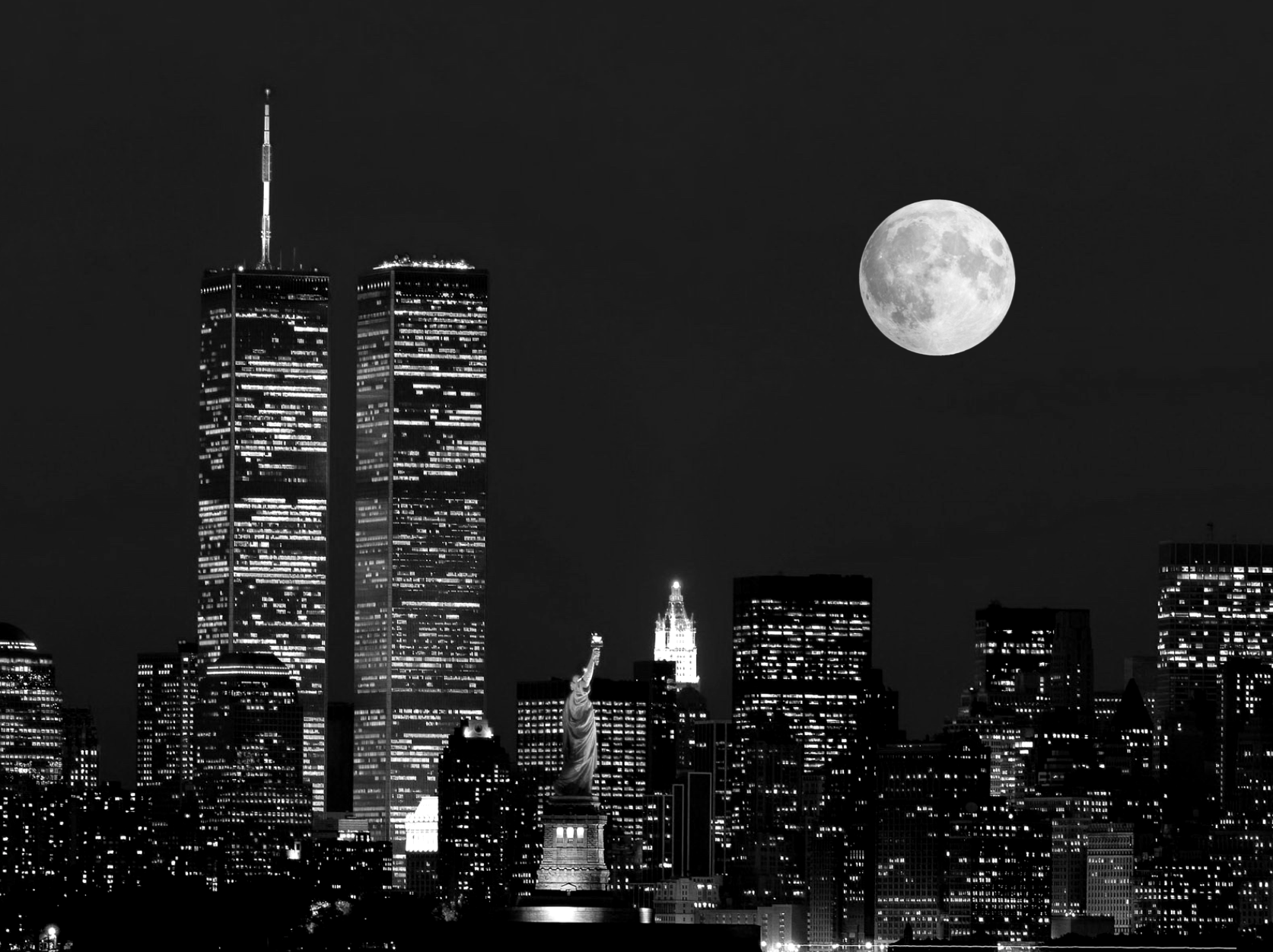 I never missed an opportunity for an all-expenses-paid pilgrimage to Jazz Mecca.
I saw Art Farmer at Sweet Basil, Tommy Flanagan at the Vanguard, Illinois Jacquet at Tavern on the Green, Sonny Rollins at Town Hall, Chris Potter at the Knitting Factory, and more. I was even so fortunate as to attend a secret late night performance by Ornette Coleman in his Harlem loft. 
After I'd lived in California for awhile, immersed in the vibrant Bay Area scene, I started my own band. It took some time to make my bones as a bandleader, but eventually we had a full dance card, playing concerts, clubs and festivals all over the region. We were essentially a territory band, criss-crossing the western states. 
As much as I loved life on the road, I soon learned that traveling with a quintet was unsustainable. Presenters rarely covered all our hotel and travel costs, and our margins were razor thin. Eventually I followed the example of my mentor, and began to travel solo, working with outstanding local rhythm sections in each destination. I found talented, capable sidemen everywhere. As one frequent collaborator observed, "The Dmitri Matheny Group is now a cast of thousands." 
But even after I'd begun to tour internationally, New York City remained a tough nut to crack. It was a challenge to get the attention of the gatekeepers, but I was determined to play there. Nobody on the ice world of Hoth gives a damn how hard your cantina band swings back on Tatooine. 
I made my New York debut on Valentine's Day 1995 at the Weill Recital Hall at Carnegie Hall. Presented by Monarch Records as the east coast release party for my album Red Reflections, the concert featured a solid line-up of young NYC musicians, friends old and new, assembled just for the occasion.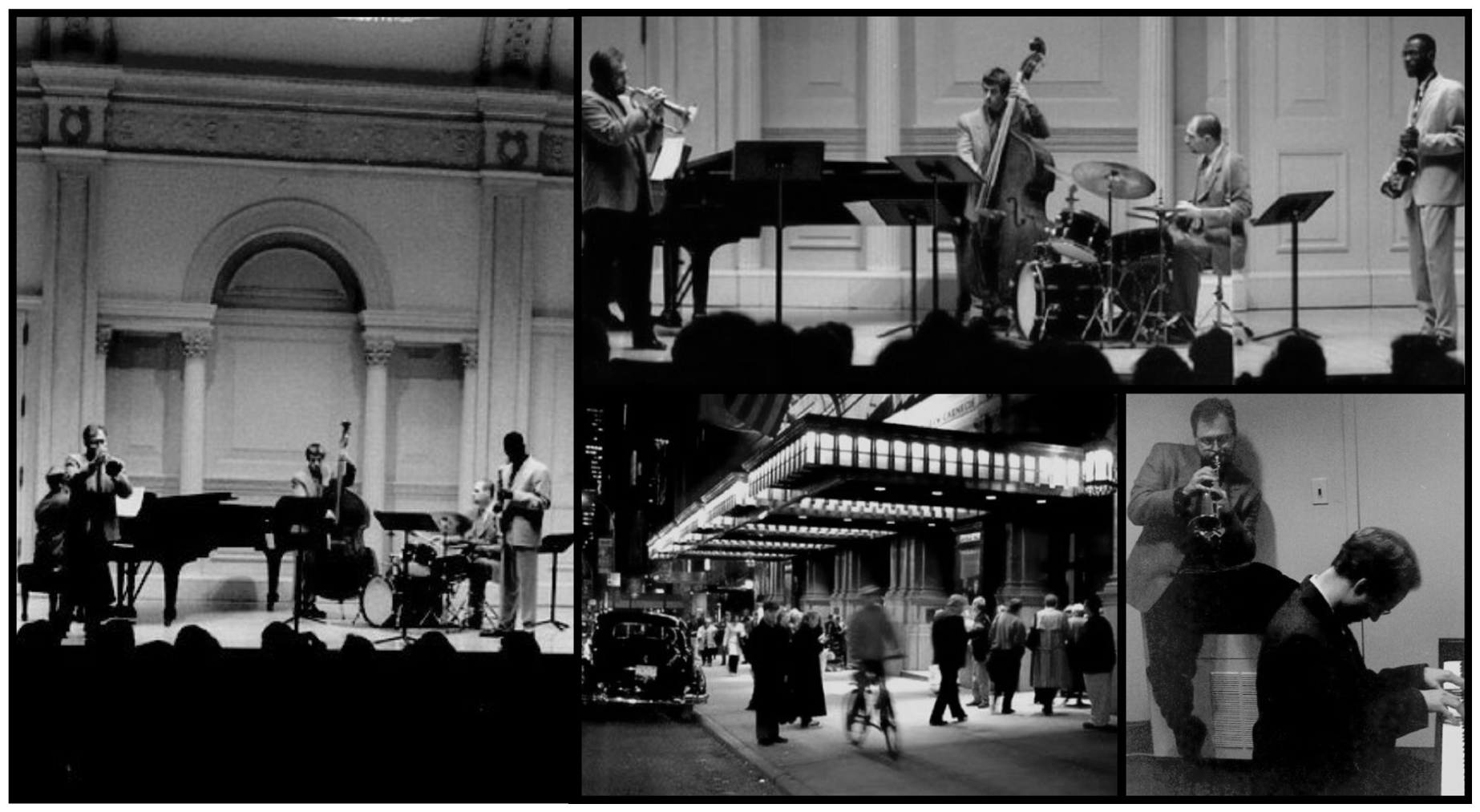 February 14, 1995 
Weill Recital Hall at Carnegie Hall NYC
Dmitri Matheny Group featuring Mark Gross,
George Colligan, Jesse Murphy, Hans Schuman 
My next New York appearance would be a couple of years later at The Jazz Gallery on Hudson Street. I was introduced to the venue's founder, Dale Fitzgerald, by photographer Lee Tanner, whose work was on display in the gallery. Since the exhibit featured photos of Thelonious Monk, we all thought it would be cool to program an evening of Monk's music in the same space. That show turned out to be one of the swingingest gigs of my life. I credit the world-class rhythm section for making everything feel so effortless. We had a full house, and the music seemed to play itself.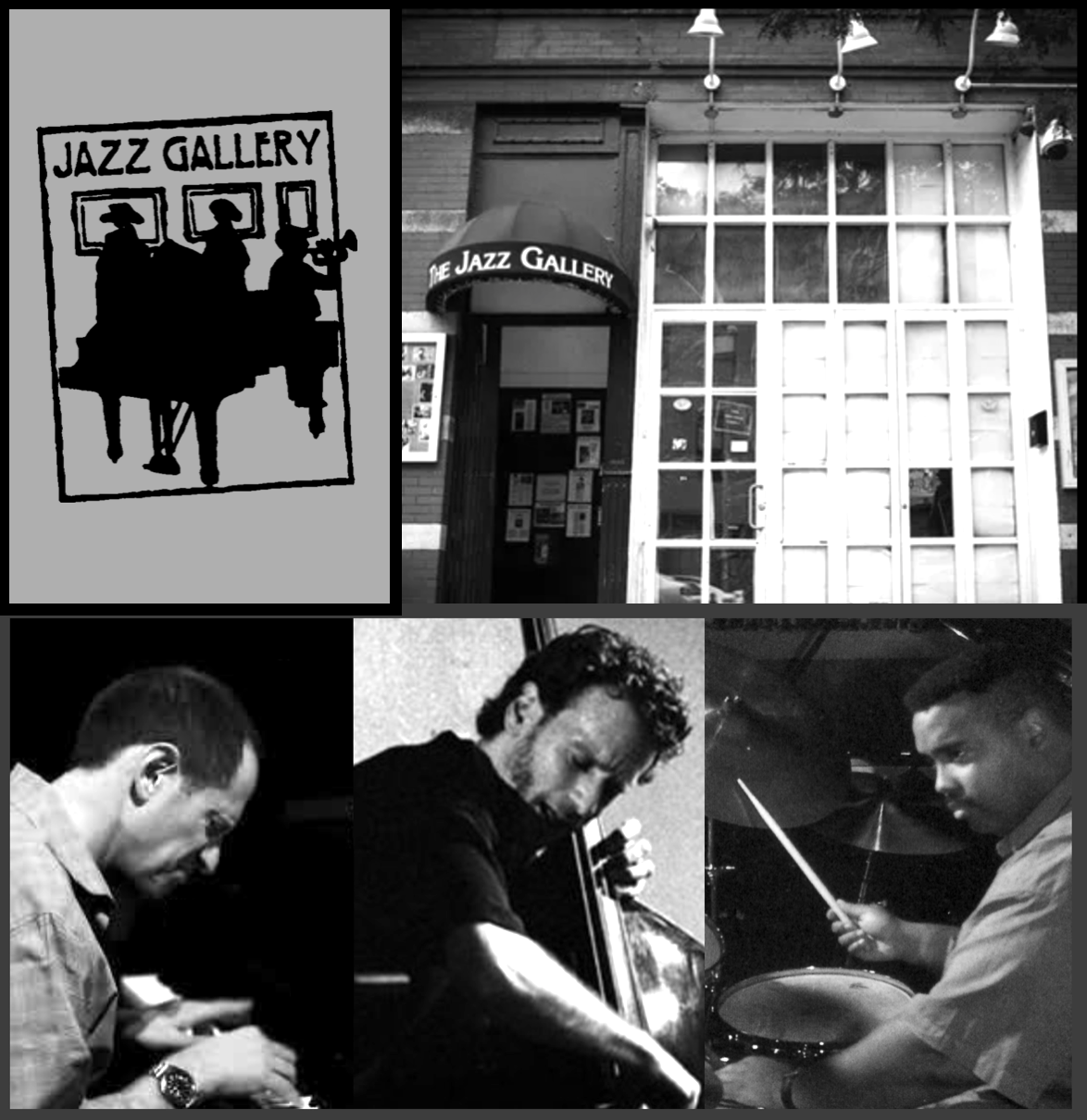 November 8, 1997 
The Jazz Gallery NYC
Dmitri Matheny Group featuring
Jonny King, Larry Grenadier, Tony Reedus 
The following year, Hans Schuman invited me back for a youth concert at the Brooklyn Museum. I'm so proud of my buddy Hans, who founded the nonprofit Jazzreach in the early nineties and has since built it into an arts education powerhouse. The show was a blast, the kids in the audience loved it, and the band Hans put together was first rate. As a surprise bonus, concert sponsor Armani Exchange outfitted us all with stage wear. (I rocked those black velvet pants for years afterward!)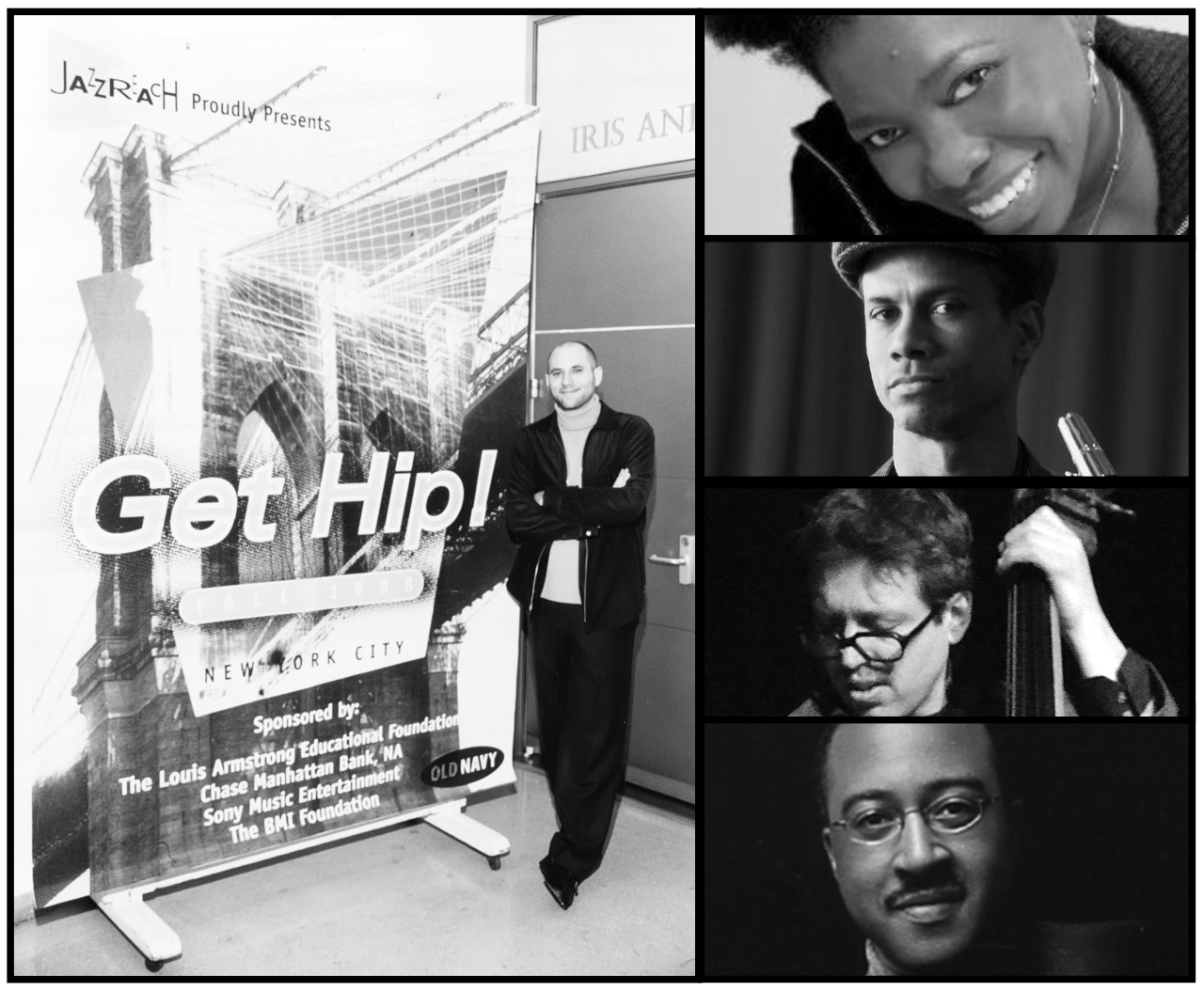 October 7, 1998 
Brooklyn Art Museum NYC
Jazzreach presents Get Hip! 
Hans Schuman, Mark Turner, Xavier Davis,
Josh Ginsburg, Dmitri Matheny, Vernice Miller 
Later that month, on Halloween, I returned to Weill Hall for a second Monarch showcase, this time in support of my album Starlight Cafe. Pianist Darrell Grant, who played brilliantly on the CD, was able to make the date, and we had a ball. A highlight of the evening was a performance by dancer/choreographer Rebecca Stenn. The show was a big success and even raised some money for charity.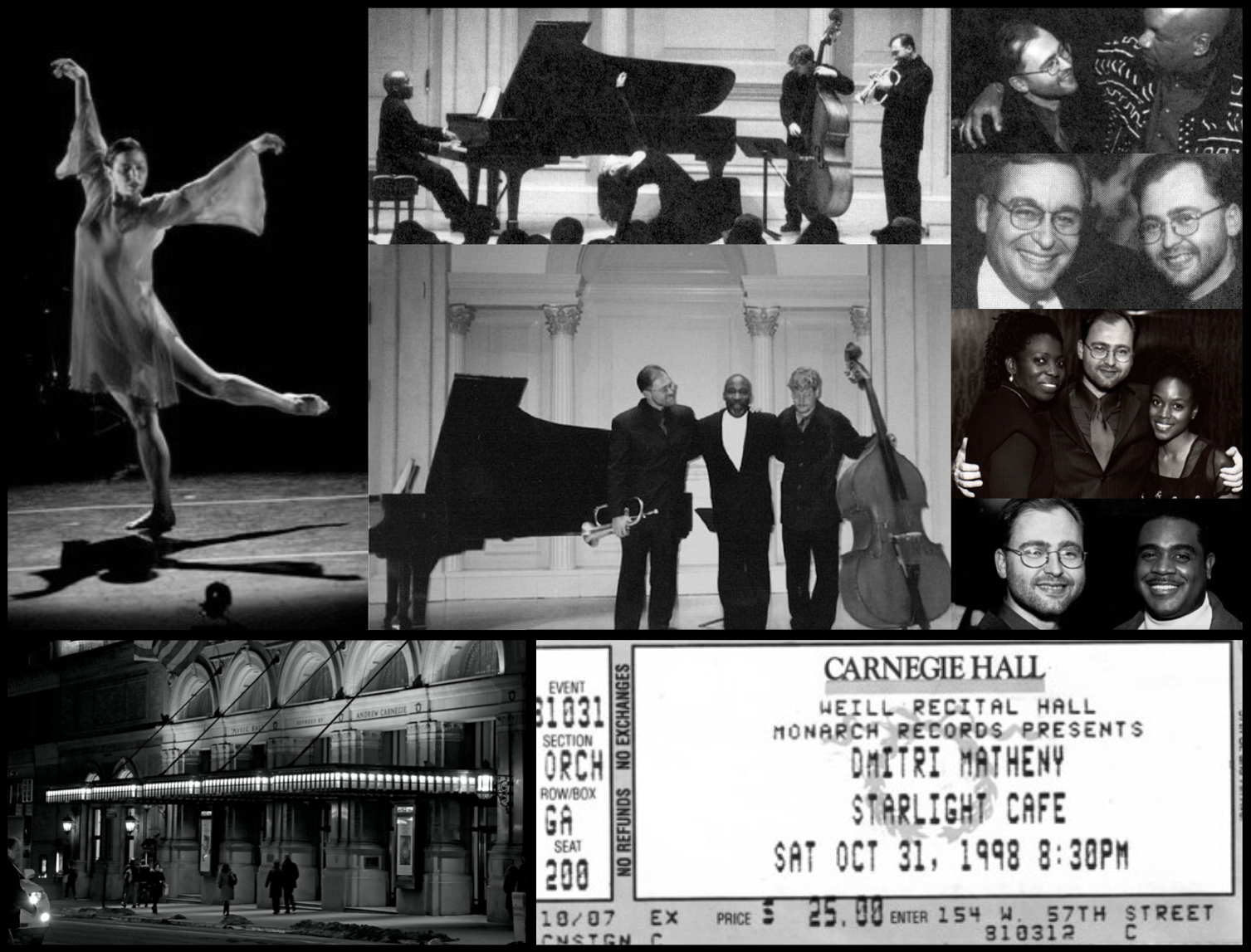 October 31, 1998 
Weill Recital Hall at Carnegie Hall NYC
Dmitri Matheny Group featuring Darrell Grant,
Josh Ginsburg, Rebecca Stenn 
 
Two weeks later I was invited to participate in a series of promotional appearances for a compilation CD called Gershwin On Monarch by the Crown Project. Our final event was a performance for music retailers and distributors at Windows on the World, a glass enclosed restaurant at the top of the World Trade Center. The view was incredible, a treasured memory now that those towers are gone forever.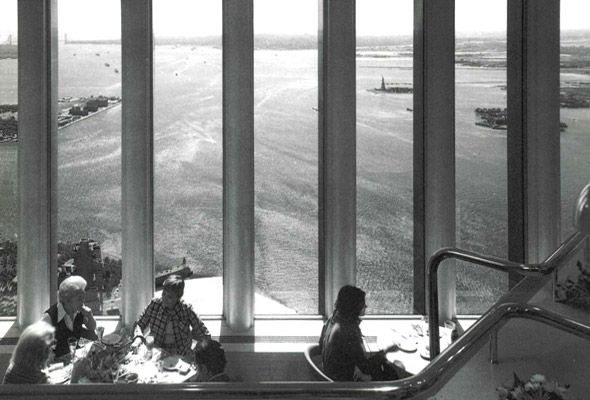 November 14, 1998 
Windows on the World NYC
The Crown Project 
My hero, Art Farmer, passed away the following year. It was a tremendous loss, not just for me, but for the entire jazz world. I felt then as I do now, extraordinarily grateful to have known him and to have benefitted from his wise counsel. I was humbled to have been among the musicians asked to pay musical tribute to him at a memorial celebration at St. Peter's Church.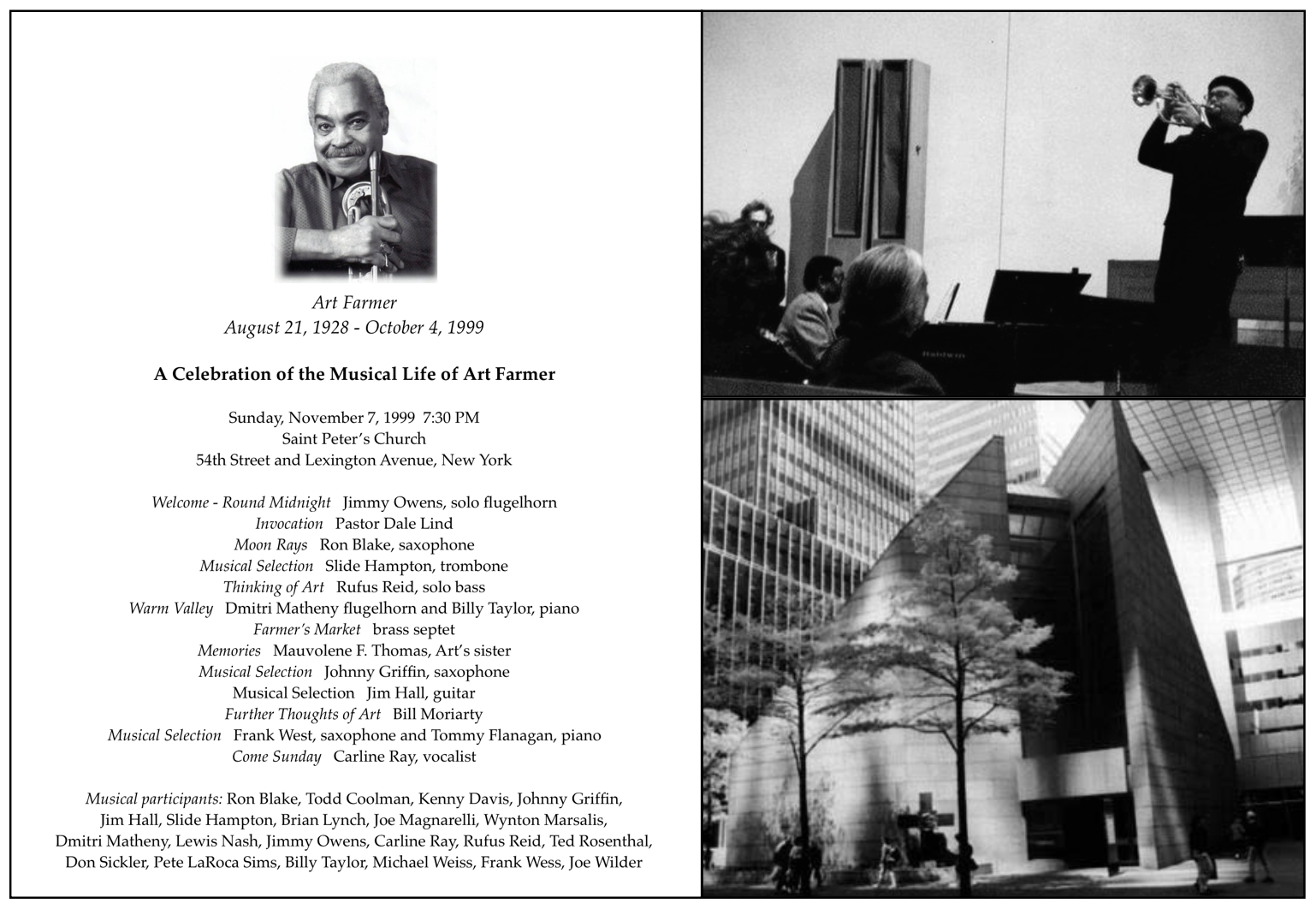 November 7, 1999 
St. Peter's Church NYC 
A Celebration of the Musical Life of Art Farmer
Dmitri Matheny and Billy Taylor
St. Peter's is often called "the jazz church" by musicians, partly because it's where so many of our icons have been memorialized, and partly because of the church's history of presenting jazz in concert. Grant & Matheny appeared there in a 2001 program celebrating the legacy of MLK. Darrell and I premiered new works dedicated to Dr. King, and many of our friends and fellow musicians turned out in support. We were thrilled.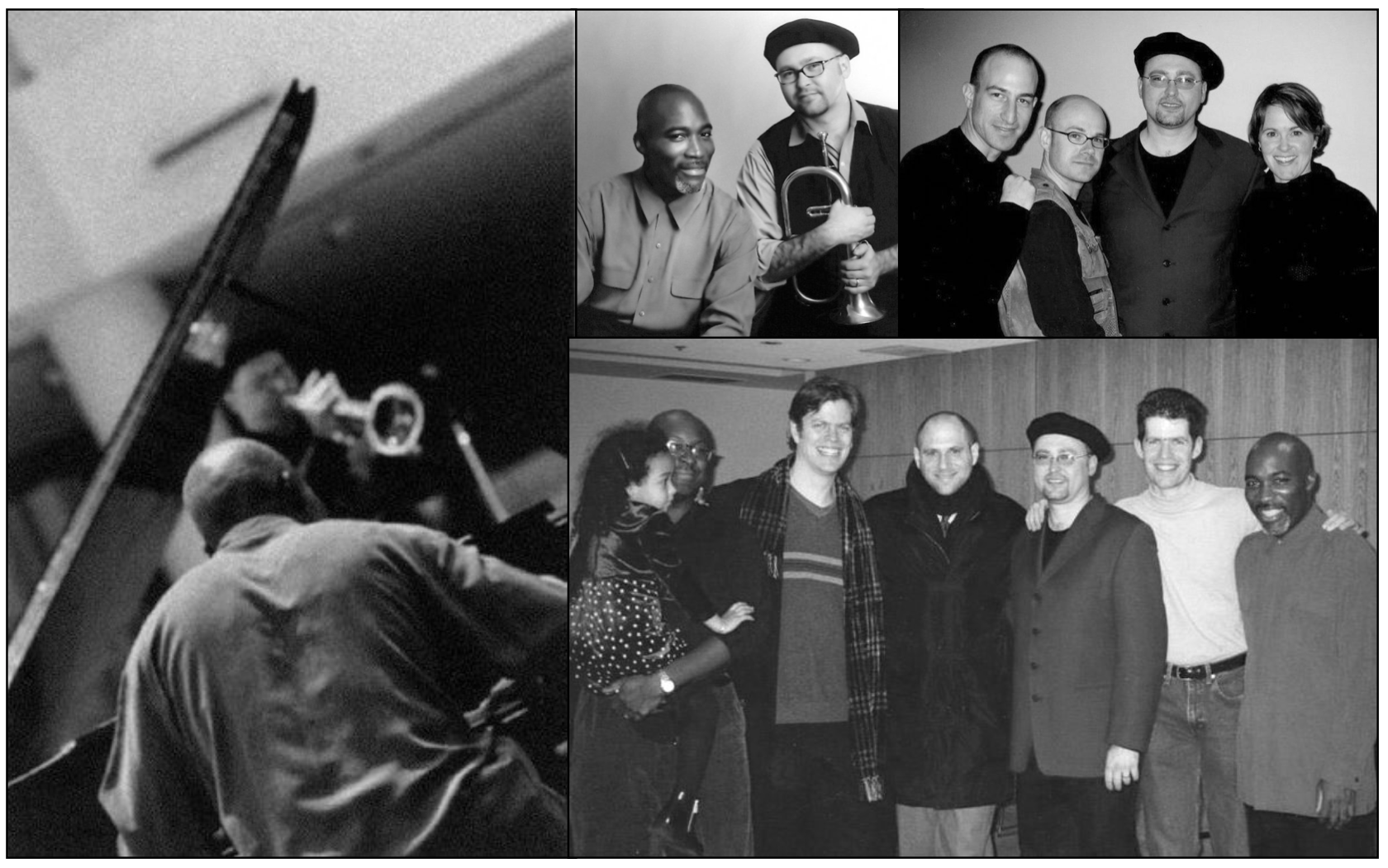 January 14, 2001 
St. Peter's Church NYC
Grant & Matheny 
It's funny how memory plays tricks on you. I didn't realize it until now, but I performed in New York seven times between 1995 and 2001. Not so many, considering the number of shows I played elsewhere over the same period. But what really blows my mind is the fact that I wouldn't return to NYC until 14 years later, when Mark Taylor and I shared a bill at the Cornelia Street Cafe in Greenwich Village. We did the usual promotional rain dance and invited everyone we knew, but somehow our audience that night barely outnumbered the band. That was a rough one.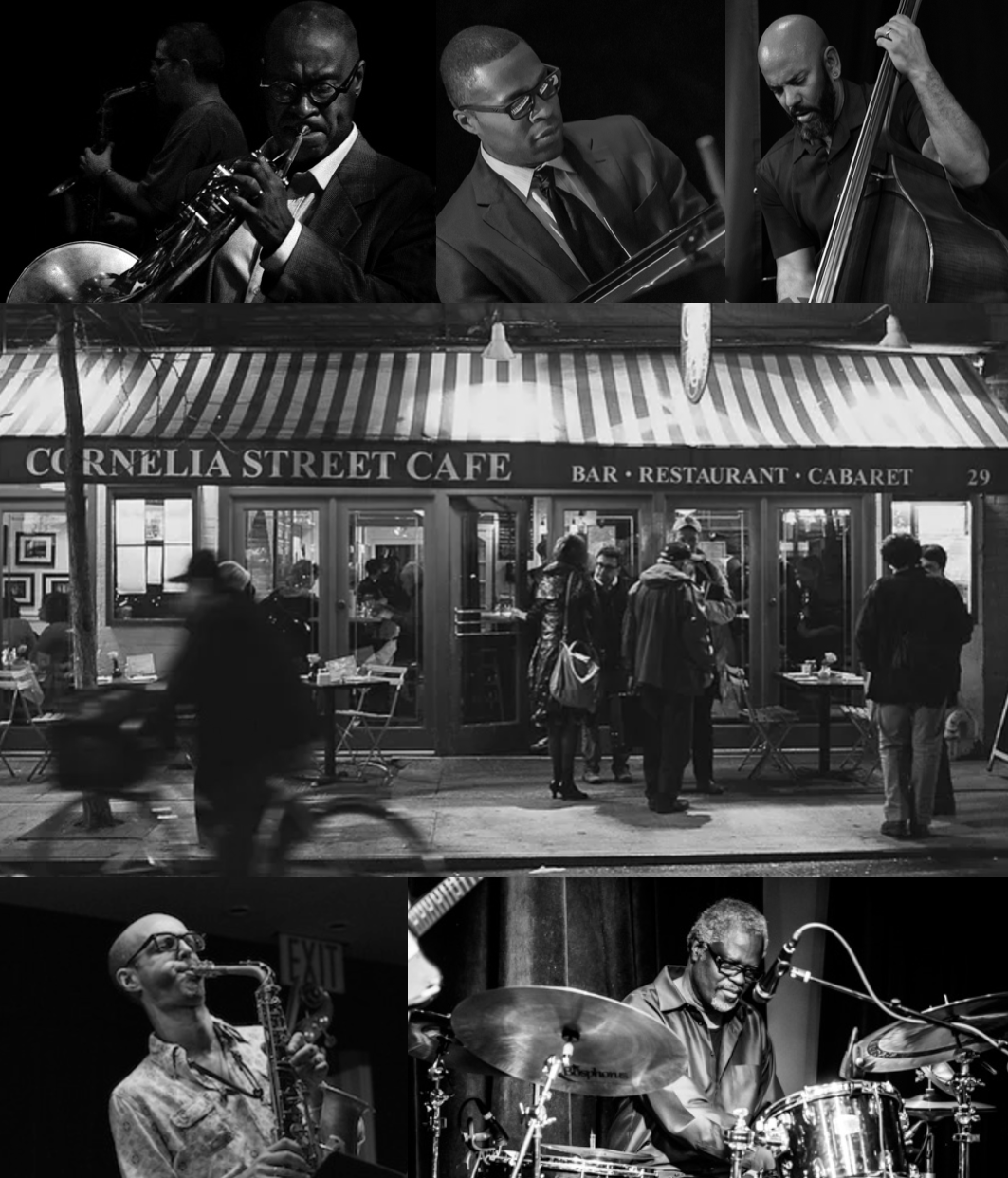 September 14, 2014 
Cornelia Street Cafe NYC
Mark Taylor's Secret Identity and the Dmitri Matheny Group featuring
Richard Johnson, Michaël Attias, Eric Revis, Michael TA Thompson 
I've returned to the Empire State several times since then, playing modest venues in far-flung corners and giving more workshops than I can count. I even performed at the Rochester International Jazz Festival — a career highlight — but I haven't yet returned to NYC.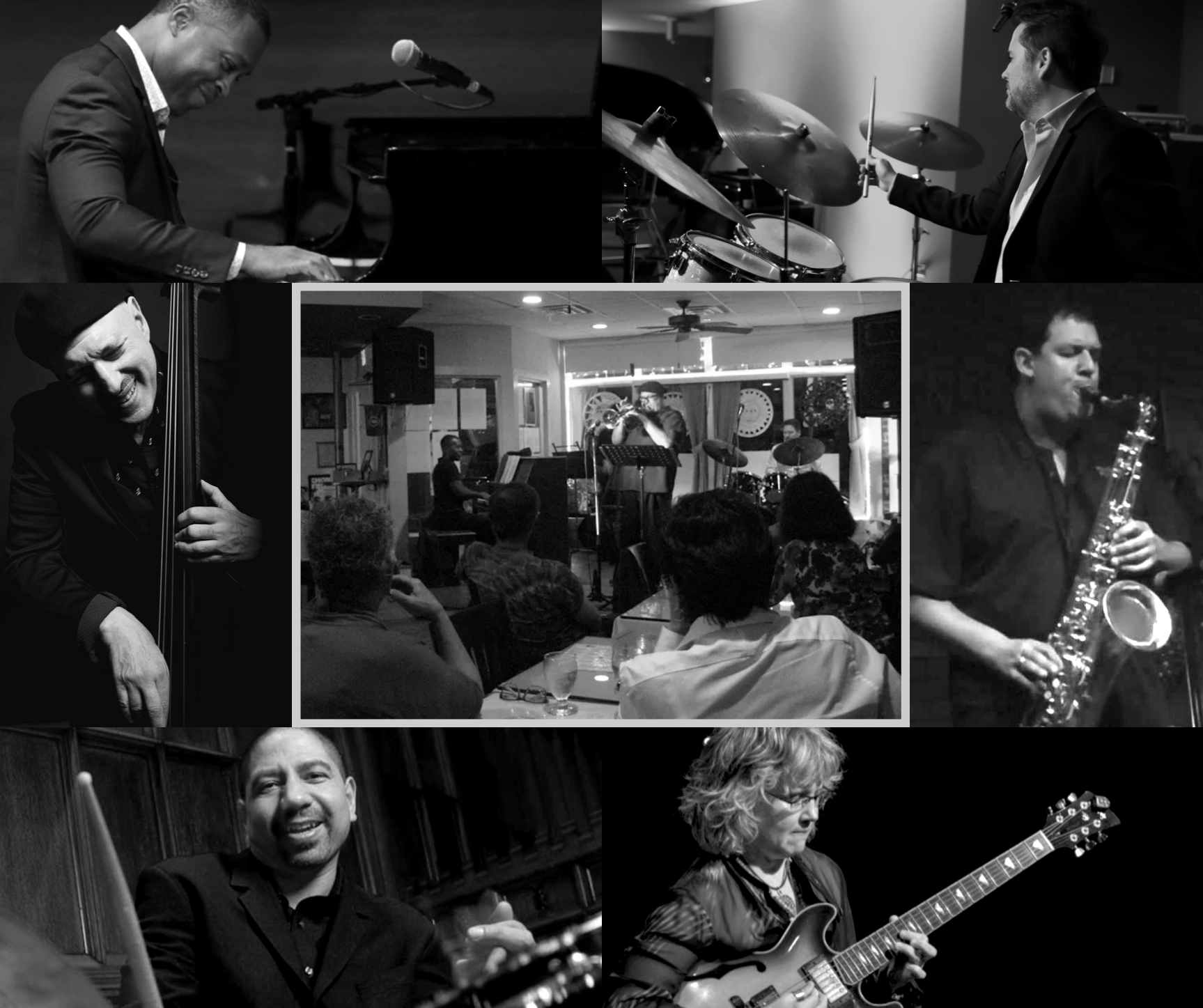 September 26, 2014 and October 13, 2017
Beanrunner Cafe Peekskill NY 
Dmitri Matheny Group featuring Richard Johnson, Harvey S,
Joe Strasser, Sheryl Bailey, Tony Jefferson, Rob Scheps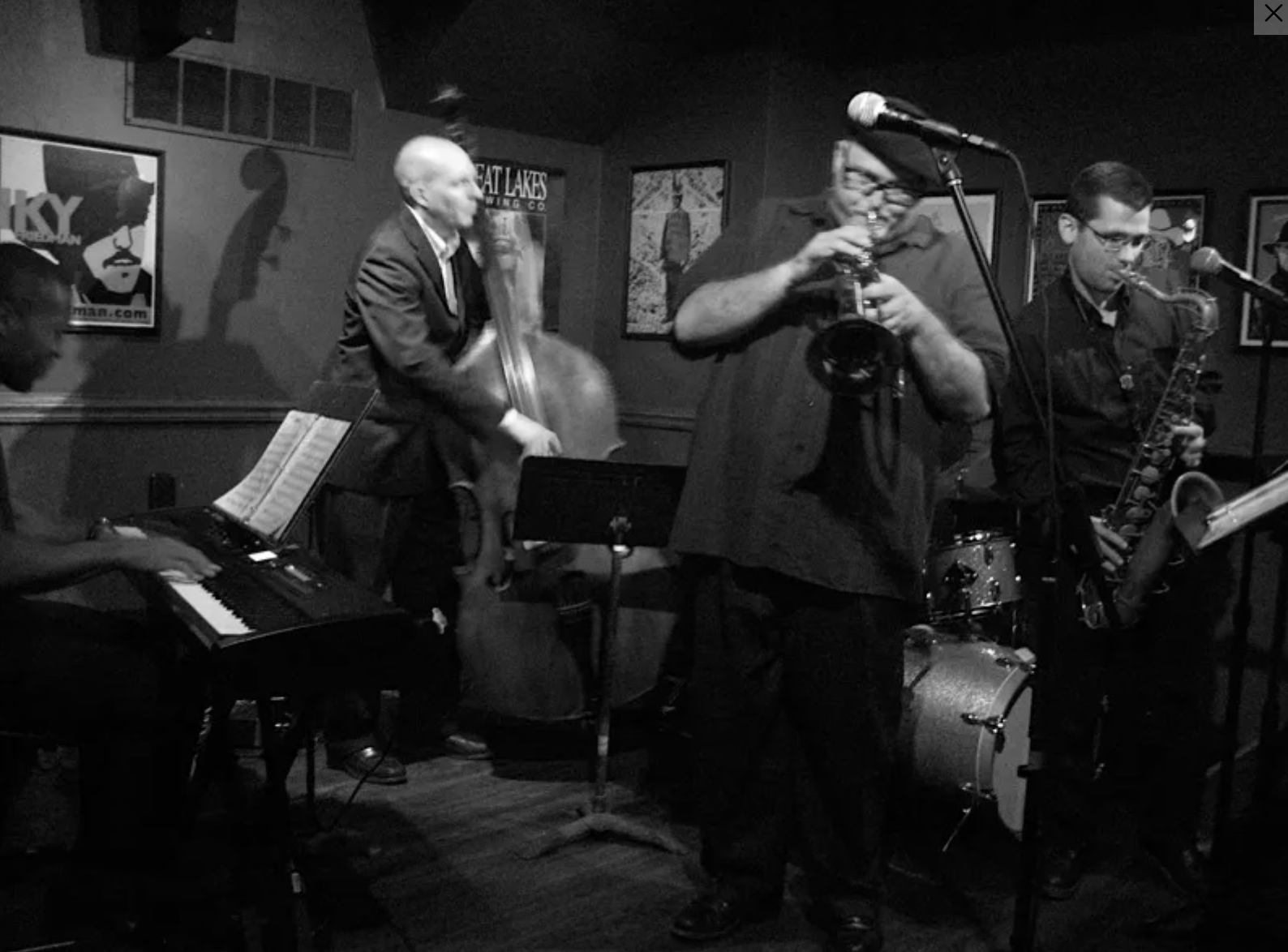 September 27, 2014 and October 14, 2017
Abilene Bar & Lounge Rochester NY 
Dmitri Matheny Group featuring Richard Johnson, Jeff Campbell,
Mike Melito, Doug Stone, Bob Sneider, Danny Vitale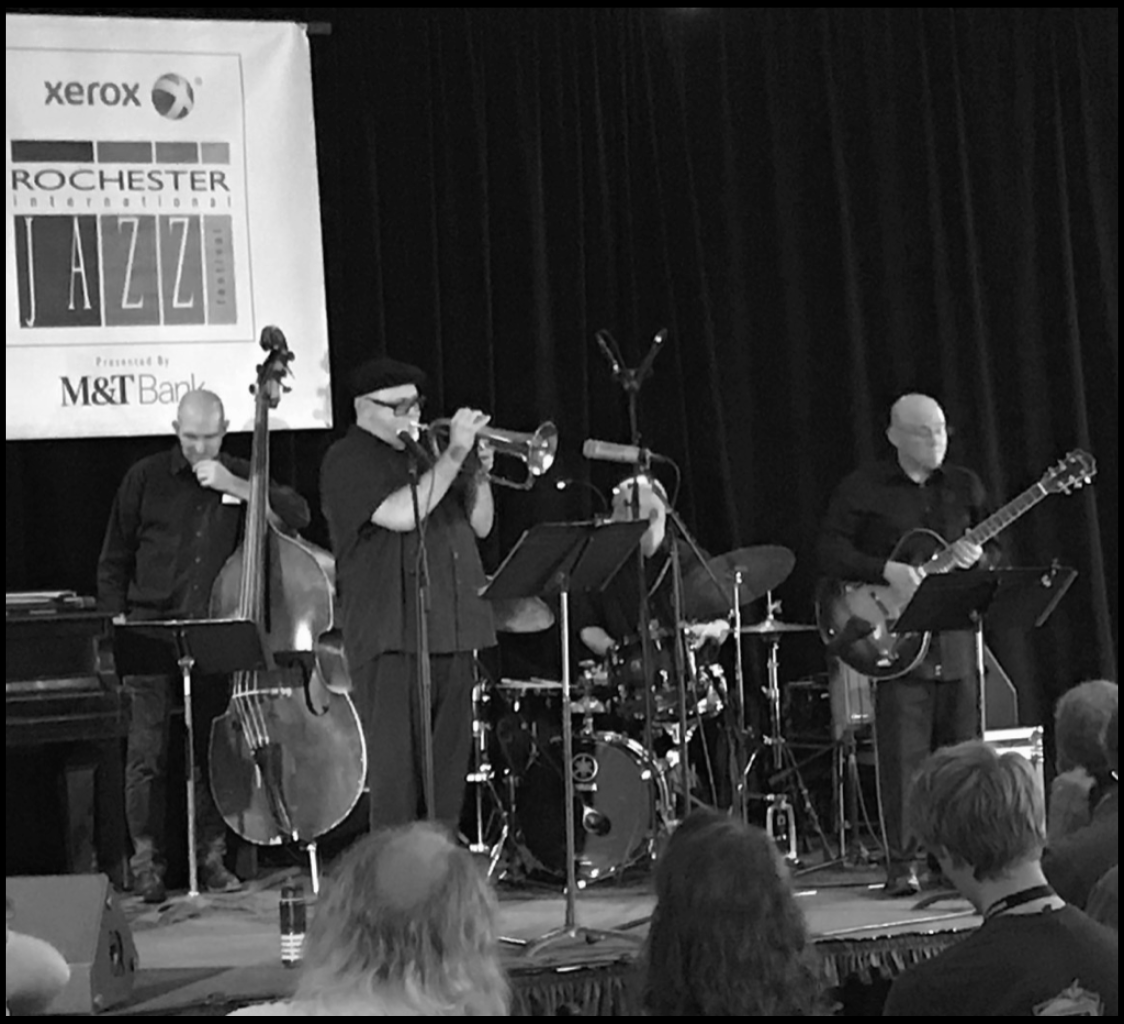 June 26, 2018 
Rochester International Jazz Festival 
Dmitri Matheny Group featuring
Bob Sneider, Jeff Campbell, Mike Melito
Our plans for the post-pandemic future are uncertain.
I'm getting older, and touring is a young man's game.
But I sure would love another bite at the apple.